SoulLee Crystals & Things
Regular price
Sale price
$29.00
Unit price
per
Sale
Sold out
 This is a leather bangle bracelet with Green Jade gemstones. 
Standard size measures 7.5" with a button closure. Fits a 6.5" wrist very nicely :-).  Everything is made to order and I will verify sizing with you prior to creating...the standard sizing is just for reference.
If you do not see what you are looking for contact me to discuss.
If listed as 'Sold Out' you my email me at SoulLeeCrystals@gmail.com.
Share
View full details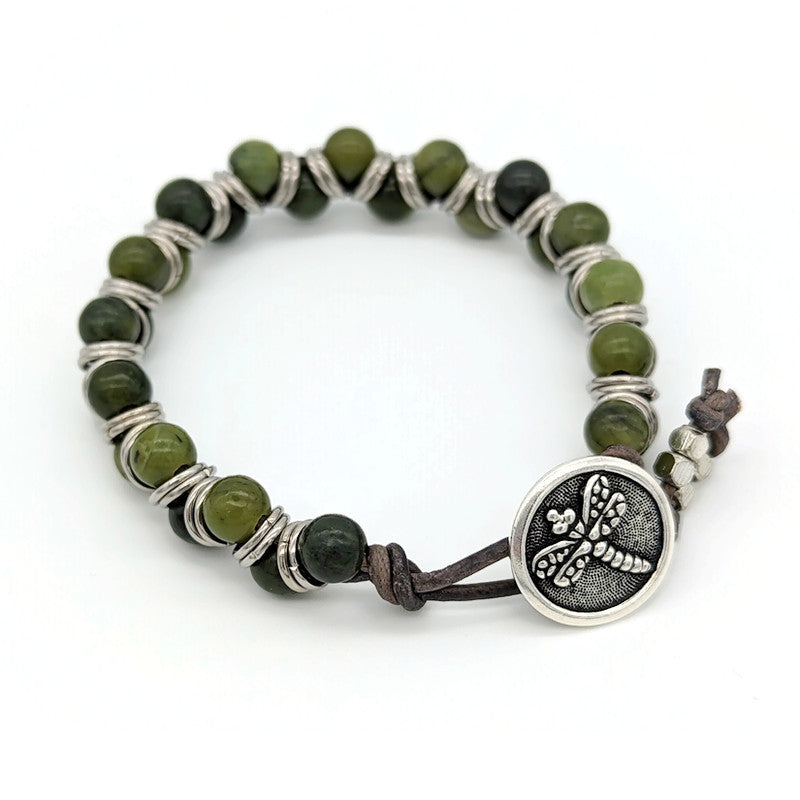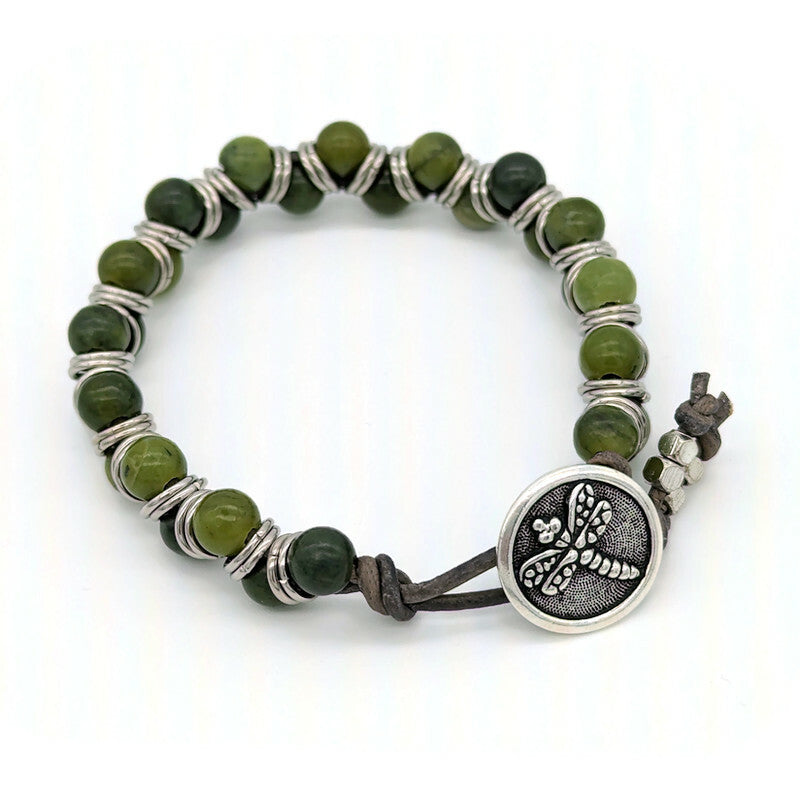 Additional Information
Learn More

 JADE: Stability, Prosperity, Longevity

Jade instills confidence and calms the nervous system. It connects to the energy of the Earth, and can be used for connecting to life-force, and for building and maintaining a sense of well-being in all areas of life. Its work with the Heart Chakra allows one to tune into other's feelings, to enhance self-confidence, and to bring wisdom into new situations.

Jade is known as a stone of prosperity and abundance. It can be kept in a cash register to increase business, or carried/worn to start a new enterprise. Jade is also an earth healing crystal and will bring abundance in the garden. It can be placed in and around the home to bring peace and harmony to all who reside there, and when placed near the Heart chakra, encourages unconditional love. A protective stone, Jade can be used to prevent accidents and other mishaps.

Physically, Green Jade is helpful to the heart and nervous system. It also helps the body to absorb nutrients. It's attribute of clearing blockages helps with the circulatory system also.

Emotionally, Jade aids with Emotional Healing, Grief, Harmony, Purifying Emotional Body, and Rage.

- Chakra: Heart, Root
- Astrological Sign: Aries, Pisces
Sizing

Standard adult Bracelets are approximately 6 - 6.5 inches.  
Need a smaller or larger size? No worries everything is made to order.
Measure your wrist and choose the closest size. (see pic for instructions)
I WILL Contact your to confirm size and all other additional information
Handcrafted

Each item is handcrafted. While it will contain the same stones and follow the same pattern as the photographs, please understand there may be slight variations in individual beads and knots. I use 100% all natural high vibe gemstones which are subject to some natural flaws and inclusions, just the way nature made them.

Maintaining balance in all areas of our life is important. I believe Crystals work well in conjunction with other therapies. They support energetic well-being. Crystals should not be used as a replacement for medical advise or treatment. Please contact your health care provider or veterinarian for medical advice.
Additional Information

Lava Stones are available.  
In addition to being a grounding stone, Lava stones are porous allowing for essential oils to be applied for personal discrete aromatherapy.
If you would like to add Lava stone(s) indicate in the 'Additional Info' field.